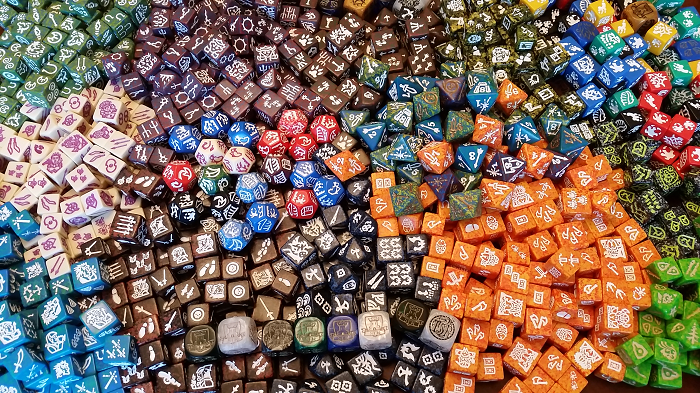 Dice Dice and More Dice
Introduction
Games are played in the contexts of rules, play, and culture. A game of chess played a century and a half ago would have a very different context and meaning between players than a game played today. Those players would be more likely to see one color of abstract playing pieces as Napoleon's army. While I can imagine players today taking a more generic view of the pieces as something less meaningful to our historical context. The thread connecting the game today with the same hundreds of years ago is the rules–but even rules can change.
In 1995, my gaming group and I were eagerly anticipating TSR's collectible dice game Dragon Dice. We were super-excited, having enjoyed Magic, The Gathering for several years at this time. We picked up starter sets, traded into the races that appealed to us (there were only four races at the time), spent a day playing, found the game extremely unbalanced (one magic-heavy player dominated every game), and never played again.
Fast-forward 22 years to 2017, where I pick up a copy of the Dice Commander's Manual at a used book sale. In it I find five races I'd never heard of, but I also find that the game is still alive and well among a diaspora of fans online. I learn that, after TSR was bought by Wizards of the Coast, the company SFR literally saved the Dragon Dice inventory from being dumped unceremoniously in a landfill and continued publishing the game, revising the rules, and adding new races. Their gambit appears to have worked, because they have sold off and reprinted many dice over the years.
[Continue Reading…]