In the tradition of Matt Groening's Life in Hell…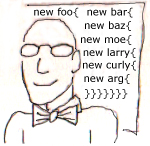 Abstraction Guy
"We really need a Factory Pattern for that Factory Pattern."
Pros: Produces really really really loosely-coupled systems.
Cons: Output will never escape the layers of code.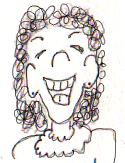 Buzzword Bumbler
"This enterprise needs to move to a service-oriented paradigm in the cloudplex to encapsulate polydactylism!"
Pros: Impresses the heck out of people who don't know better.
Cons: Someone will eventually call bullshit.
Note: For fun try putting two in the same room to watch them throw nonsense at one another.

Bleeding Edge
"Why don't we just replace the company phonelist spreadsheet with a FOAF browser plugged into an object database?"
Pros: Thinks outside the box.
Cons: Must regularly be beaten back into the box.
[Continue Reading…]