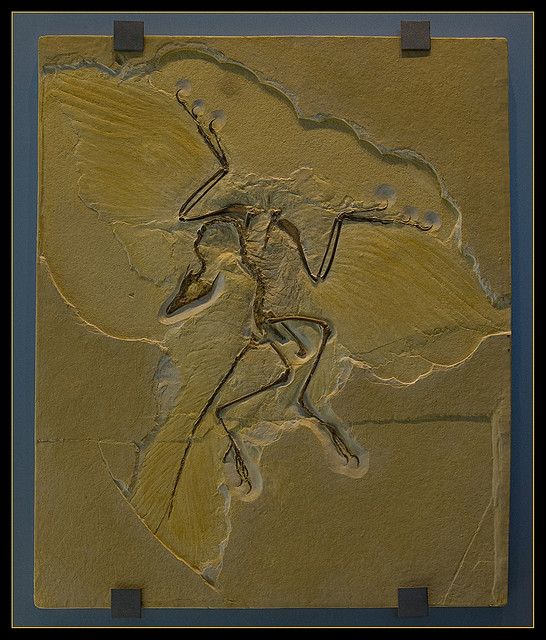 Archeopteryx
Credit:
digital cat
On top of Pluto being demoted, the non-existence of Brontosaurus, and whether it's okay to proposition a woman on an elevator at 4:00 in the morning we can now add a fun new debate for the online scientific community: is Archeopteryx a Bird or Dinosaur?
Analysis of a Xiaotingia zhengi fossil is driving the debate. The animal is "very closely related" to Arhceopteryx according to the researchers, but its characteristics more closely relate it to Velociraptors than birds:
After analysing the traits present in Xiaotingia and its relations, Xu and his colleagues are suggesting that the creatures bear more resemblance to the dinosaurs Velociraptor and Microraptor than to early birds, and so belong in the dinosaur group Deinonychosauria rather than in the bird group, Avialae. Many features led the team to this decision, but the most immediately noticeable are that Xiaotingia, Archaeopteryx and Anchiornis have shallow snouts and expanded regions behind their eye sockets. Microraptor has similar traits, but the early birds in Avialae have very different skulls.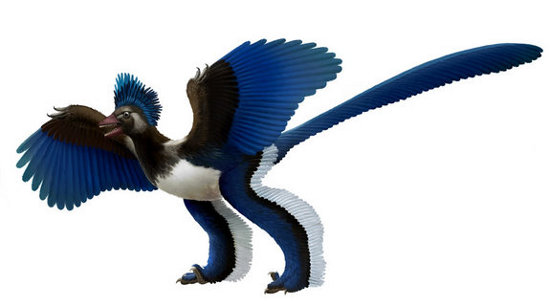 Xiaotingia zhengi
Copyright Xing Lida and Liu Yi
To summarize: Back when Archeopteryx was the only fossil we had that possessed both dinosaur and bird traits, it made sense to consider it the "link" between dinosaurs and birds. Now that we have lots of other bird-dinosaur hybrid fossils from this same period in evolutionary history, we no longer know which of them, if any, is a direct ancestor of modern birds. Therefore, it is no longer accurate to call Archeopteryx the first bird, because there are so many other contenders in the mix now.


[Continue Reading...]