"Circling the Earth in my orbital spaceship I marveled at the beauty of our planet. People of the world, let us safeguard and enhance this beauty — not destroy it!" ~ Yuri Gagarin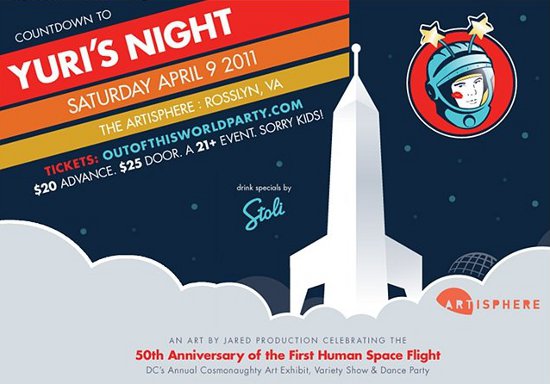 Yuri's Night 2011
50 years ago, on April 12th, 1961 cosmonaut Yuri Gagarin piloted the Vostok 1 into space, entering the history books as the first human to achieve space flight. It follows the 50th anniversary of the first artificial satellite in orbit, Sputnik, the first living passenger to make it into space, Laika, and America throwing our hat into the space race. It will be eight long years until we can celebrate the next big semicentennial event, the Apollo Moon landing.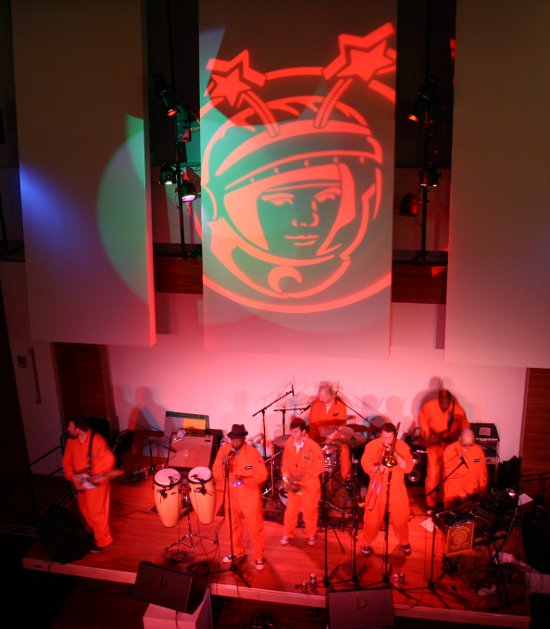 Eastern Standard Time
Yuri's Night is a world-dance party celebrating human adventures in space and raising consciousnesses concerning space flight with art, music, and costumes. I previously blogged about attending an event in 2008 with the Extropia community in Second Life. This year Vicky and I attended a live event, just outside of Washington DC at the Artisphere in Rosslyn Virginia, and had a blast.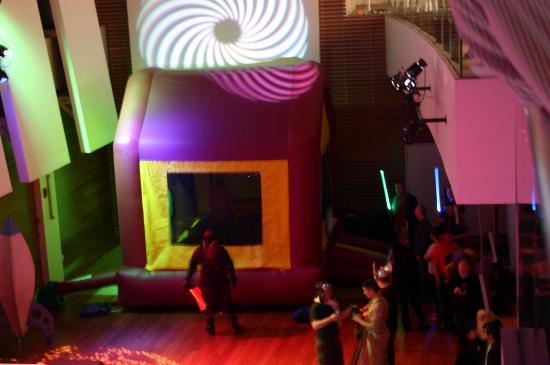 Jedi and Dark Sith Guard the Moon Bounce
The Out of this World Party definitely lived up to its name. Tunes like Muse's Starlight, Black Hole Sun, and a ska/reggae version of the Dr.Who theme helped set the atmosphere, as did a great performance, in space jumpsuits by the Caribbean-Jazz-Soul-Ska band Eastern Standard Time, who brilliantly got everyone out on the dance floor by handing out Tetris blocks for people to play with. While the band played, projectors ran through scenes from science fiction b-movie cult classics like "War of the Satellites,"Attack of the Crab Monsters," and "StarCrash."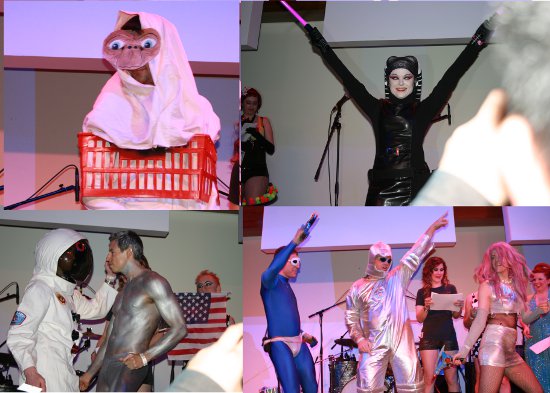 Yuri's Night Costume Party
Lightsaber-weilding jedis and dark sith stood guard over the Moon Bounce, in which Vicky and I had a great time leaping around. Costumes ranged from science fiction classics to beer-dispensing robots and drag queens. The art exhibit on the upper floor was fantastic, covering aliens, robots, space chimps and more, with most of the pieces available for viewing on the event website (Click on "Yuri's Night" and "C2YN Art Exhibit"). I expect Yuri's Night to become a yearly todo for my wife and I. We might have to get there early enough for the burlesque shows too. : )
---
Be sure to check out the documentary "First Orbit," which will be released for free download on April 12th.
You can also check out my Flickr Set of photos from the party.