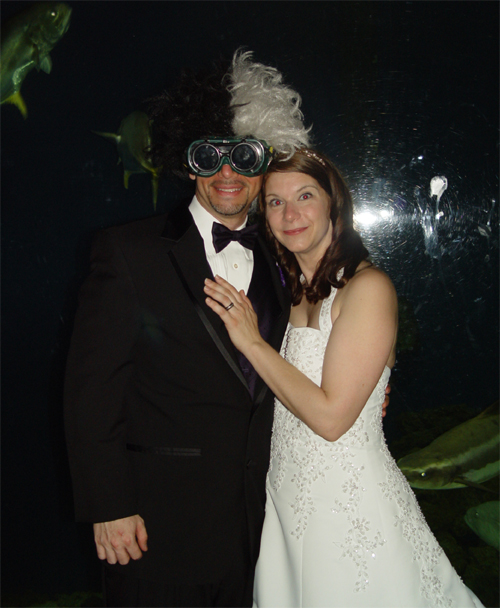 Mad Scientist Groom and His Lovely Bride
Atheist, agnostic, humanist, secularist, skeptic, empiricist, Ockhamist, and Patafarianist are all different flavors of the philosophy of life my wife and I share, but Vicky and I prefer the term "Spiritual Naturalist" to describe the deeply fulfilling sense of wonder we get from engaging the natural world around us. This ionian enchantment, as it's known, emerges from an understanding that our reality is comprehensible through natural scientific laws, and just as members of the plethora of diverse religions of the world celebrate their spiritualism in sanctifying their marriages, we wanted to celebrate our sense of wonder for the world on our wedding day.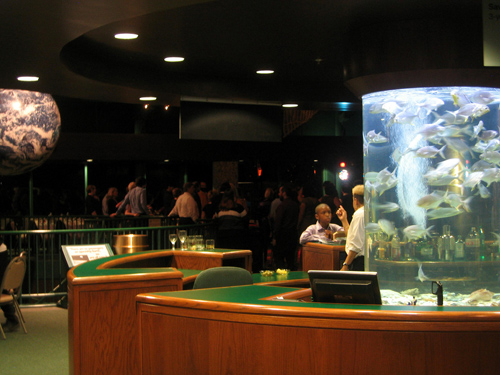 The Virginia Living Museum
It started with finding an appropriate date for the event, something special in the realm of nature. With numerous science holidays to choose from, we quickly found the Vernal Equinox, the first day of spring when there are equal periods of night and day as the seasons progress towards summer, fell on a Saturday and would give us plenty of time to prepare for the event. Part of the fun of choosing one of the equinoxes or solstices for a wedding day is that we celebrate our anniversaries on the reoccurrence of the equinox, so while our Wedding occurred on March 20th, 2010, every so often we will celebrate our anniversary on the 21st of March instead.
The Ceremony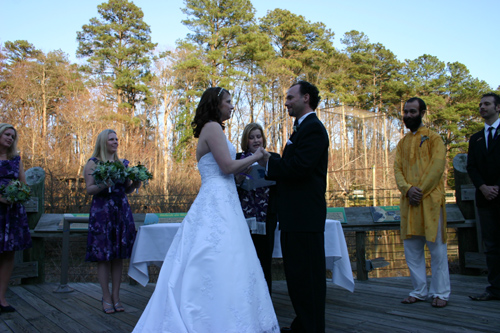 Ceremony in Nature
We chose The Virginia Living Museum as our venue for the ceremony. This gave us the option to bring the wedding inside should the weather prove too cold, but it was a perfect day, and we were able to hold the main event outdoors across from the Coastal Plain Aviary, making birds like the Yellow-Crowned Night-Heron part of the event.
Reverend Launa Byrd did a fantastic job of working with us to craft a ceremony that was secular, but also full of spirituality and awe of nature. Her husband Patrick Byrd was also very accommodating of our unusual music requests, which included classical pieces from Star Trek the Motion Picture and Conan the Barbarian.
Thank You to Parents
Cycad's and Planting Pot at the Ceremony Table
We skipped this part of the ceremony in rehearsal to surprise our parents in the actual ceremony. Reverend Byrd suggested we thank each other's parents for raising us to be such a perfect match for one another. As part of this, we would present a gift to each of our parents. In keeping with the nature theme, we intended to give our parents Wollemi Pine's, a Lazarus taxon, meaning a species once thought extinct but discovered still living in a remote part of the world, but due to complications getting our order filled, we substituted Cycad plants, which, while never having gone extinct, date back 280 million years in the fossil record.
The Rings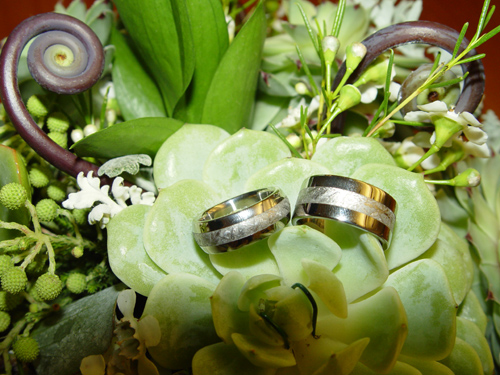 Titanium Rings with Meteor Inlay
We ordered our rings from Titanium-Buzz.com, going for simple bands, but with an inlay of meteorite around them. The iron-rich material provides a very nice texture, and, since iron is the heaviest element that can be manufactured in a star's core, provides the opportunity for some eloquent eulogizing on the rings' significance both materially and geometrically:
Your rings are circles and a circle is the symbol of the sun, the earth, the universe, of wholeness, perfection, peace and unity. It is forged from elements that were created by a supernova. This means that the metal in these rings has travelled billions of years through time and billions of light-years through space to be here on earth today. And now they will become a part of the both of you.

A perfect circle contains an element of infinite complexity. Like circles, your rings have no beginning and no end and in the sacred tradition of marriage, rings have come to symbolize eternal love and the endless union of body, of mind, and spirit. The circle, like marriage, was created to be forever, and endless. Just like the number "PI" a number that goes on without end. To quote Lisa Hoffman, "Marriage is like PI – natural, irrational, and VERY IMPORTANT."
The Reading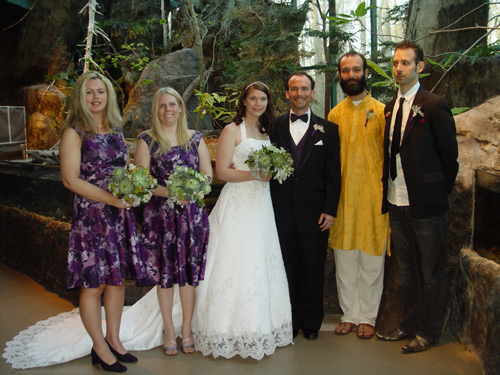 Wedding Party
I spent some time trying to figure out how to parse Langdon Smith's epically brilliant and romantic 1909 poem Evolution. A Fantasy down into something that could be read at our ceremony; however, despite the way the poem makes my spine tingle every time I read it, I wasn't sure it was something a general audience could well appreciate at first exposure. Carl Sagan also has some highly accessible and significantly inspiring passages that could work well as a wedding ceremony reading for their forward-thinking and positive visions of a human future. To fit best with our chosen venue, we went with the discovery Vicky made in Karen I. Shragg's delightful poem Think Like a Tree, which is perfect in its simplicity, accessibility, and spirituality.
The Unity Ceremony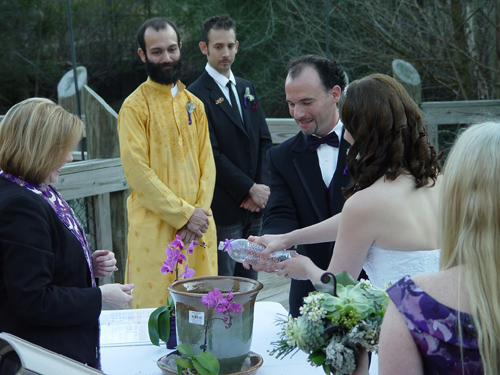 Planting a Blight-Resistant American Chestnut Seed
In a perfect bit of synchronicity, Vicky came into possession of some blight-resistant American Chestnut seeds, which were sent to her early from the American Chestnut Foundation:
In 2008, I visited one of the research farms of The American Chestnut Foundation and learned about their backcross breeding effort to restore the American chestnut. It's hard work! Innoculating trees, evaluating blight resistance, pollen collection, flower bagging, meticulous hand pollinations and fall harvests of the spikey burs. After 25 years, all that effort produced the B3F3 generation. Dubbed the "Restoration chestnut", the trees are 15/16th American and potentially blight resistant
With this seed, we were able to plant the seed of hope for another Lazarus species.
Like this tree, today, you establish the strong roots of your future. A tree is only as strong as it's roots. The roots are what bring food and water to the rest of it to keep everything alive and working. A tree can't grow strong if the roots are too shallow. It can't grow stronger if you only concentrate on the surface of living. If you try to send your roots into dry ground, they will not have much of a chance to grow, no matter how deep they go. They need a constant reliable source of water for steady growth. You both need to be that kind of constant source of nourishment for each other now and always. With that, your marriage will thrive.
Wedding Programs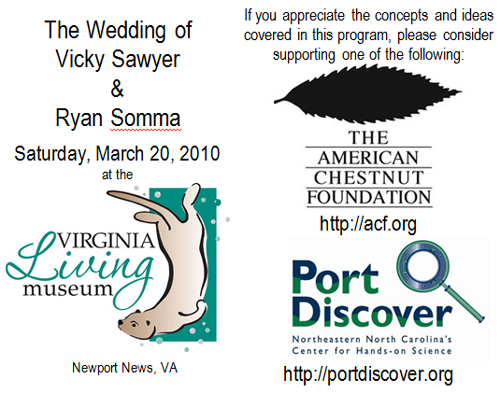 Wedding Program
With so many science and nature aspects to the wedding ceremony, I couldn't resist writing up a program that further explained the wonder of it all. From the elements in our rings traveling light years of distance and millions of years in time to be here today, to the Lazarus Taxons and reintroduction of the American chestnut, to the infinite irrational complexity of the number Pi, and the Earth's position in relation to the Sun for the Vernal Equinox. My hope was to make the ceremony as enlightening as possible.
The Reception
Owl Exhibit
The venue itself was very wondrous, with numerous aquariums providing an enchanting atmosphere. The Virginia Living Museum staff were on hand with living displays like a tiny one-eyed owl that the children we encouraged parents to bring to the event could pet and open pools of water welcoming kids and adults to touch the exhibits. One of Vicky's Uncles was so inspired by and indoor living bee hive, that he ordered his own honey bees when he got home and started raising them himself.
Centerpiece by Vick
With Pi Day taking place just a week before (3.14), Vicky had the idea to make Pi-shaped chocolates for the guests place settings. For centerpieces, we dropped by Lowes just before the winter months and bought up their entire succulent plant collection, which was on clearance. These plants thrive despite neglect, and the centerpieces we made from them, with the help of the children in our neighborhood, continue to thrive today. This also holds mostly true for the bouquets used in the ceremony, which were made of a combination of succulents, fern fiddleheads, and other assorted plants to make a very unique botanical selection. Many of the succulents from the bouquets continue to thrive today.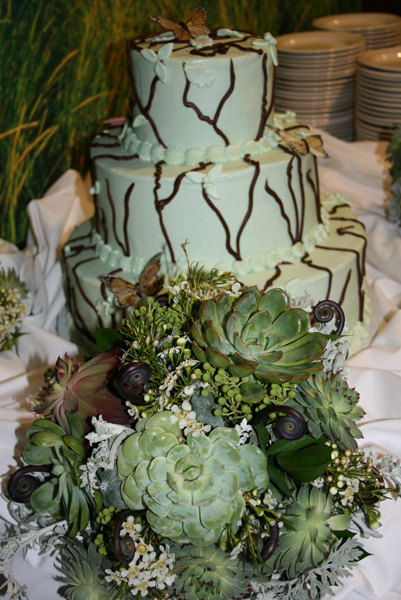 Cake and Bouquet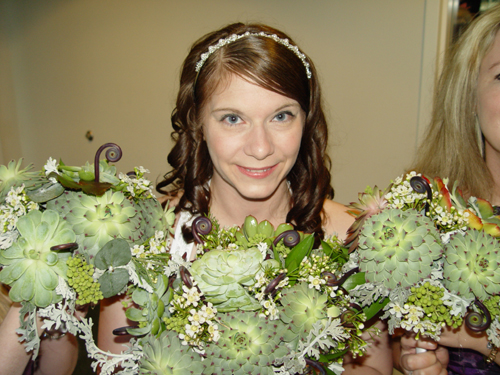 Vicky and Bouquets
We kicked things off with Monty Python's The Galaxy Song for our first dance, which provides a really nice beat for a waltzing box-step and brings a welcomed levity for taking the pressure off Vicky, myself, and our amateur dance skills. The rest of the night was filled with the standard dancing, children running around, and socializing, only with additional species of mammals, fish, and insects in the mix : )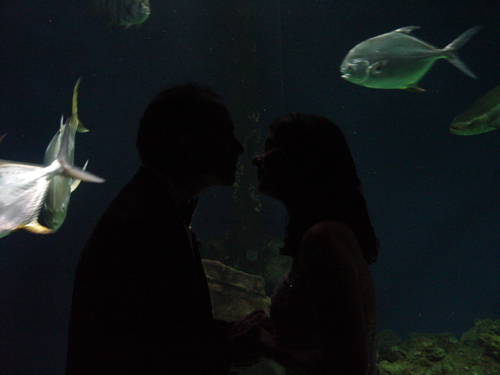 Aquarium Kiss
---
Additional Notes
More photos of the ceremony, venue, and reception at the flickr set and at this flickr set, photos courtesy of Liza Franco Photography and Deane Felton respectively. Liza knew so much about where to be and what to stage to get great photos.
You can download a copy of our complete wedding ceremony script here to search for quotes and inspirations to incorporate into your own ceremonies.
You can download a copy of the wedding program here to adapt for your own ceremonies. The formatting works well for making mini books, but you'll need to figure out the printing orientation yourself with your own printer (print all even pages, then load up those pages back in the printer and print the odd pages, fold, cut and staple in the middle).