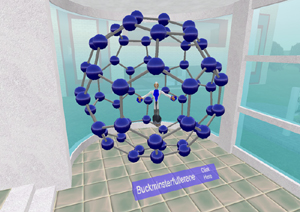 Carbon Buckeyball Model at the Second Life Science Center
I'm one of those people who saw incredible potential in Linden Labs' Second Life and sang its praises, while so many critics demanded to know what the virtual world was good for. All too well I remember critics of the Internet over ten years ago complaining, "It's just a bunch of magazine pages." Second Life had magnificent promise in academic applications. I used to love exploring the International Space Museum, NASA's virtual home there, the garden of Physics demonstrations, and the NOAA's island of activities.
Then I tried to bring my class of grade school kids into Second Life to go on a virtual field trip and see these places… only to be thwarted by Linden Labs policy of not allowing more than five people to log into the world from the same location unless they had a premium account (It actually locked us out after one student registered, meaning mine was the only other account successfully logging into SL). I looked online, and people told me to call Linden Labs and request an exception be made, but by that time it was too late to attempt the field trip.
Why ban multiple users from the same location? I'm guessing it's to prevent Cyber Cafes and other public locations from offering Second Life access without Linden Labs getting their cut. In other words: Greed.
PC Pro's Barry Collins, who spent a week immersed in Second Life in its heyday, recently returned there to find the virtual world is a ghost town (except for the porn island). Valleywag and others have the virtual world on a death watch (ht BMF).
Where did Second Life go wrong? In his free Creative Commons book The Future of Ideas Lawrence Lessig recounts the tale of two protocols competing for the Internet standard, and why WWW won:
Berners-Lee feared that competing protocols for using the Internet would wipe away interest in the WWW. One protocol built about the same time was called Gopher. Gopher enabled the easy display of a menu of options from a site. When you went to a Gopher-enabled site, you would see a list of links that you could then click on to perform some function. Gopher was extremely popular as an Internet application—running on the Internet protocols—and use of Gopher took off in the early 1990s.53

…His fear, however, was not realized, both because of something Berners-Lee did and because of something the creators of Gopher did—and both are lessons for us.

Berners-Lee was no bully. He was not building a protocol that everyone had to follow. He had a protocol for displaying content on the World Wide Web—the HTML language that Web pages are built in. But he decided not to limit the content that one could get through a WWW browser to just Web pages. Instead he designed the transfer protocol—HTTP—so that a wide range of protocols could be accessed through the WWW—including the Gopher protocol, a protocol for transferring files (FTP), and a protocol for accessing newsgroups on the Internet (NNTP). The Web would be neutral among these different protocols—it would in this sense interconnect.54 That made it easy to use the Web, even if one wanted to get access to Gopher content. But the second doing was much more important to the death of Gopher as a standard.

As Berners-Lee describes it, high off its success in populating the world with Gopher, the University of Minnesota—owner of the right to Gopher— suggested it might exercise its rights to charge for the use of the Gopher protocol. 55 Even the suggestion of this terrified developers across the world. (It was, Berners-Lee writes, "an act of treason."56) Would developers be hijacked by the university once they depended upon their system? How much would they lose if the platform eventually turned against the developers? Berners-Lee responded to this by convincing CERN to release the right to the Web to the public. At first he wanted to release the protocol under the GPL, or General Public License (the "GNU General Public License," which we will see much more of in chapter 4). But when negotiations over that bogged down, he convinced CERN simply to release the rights into the public domain. Anyone had the right to take and use the protocols of the WWW and build anything upon them that they wanted.57

The birth of the Web is an example of the innovation that the end-to-end architecture of the original Internet enabled. Though no one quite got it— this the most dramatic aspect of the Internet's power—a few people were able to develop and deploy the protocols of the World Wide Web. They could deploy it because they didn't need to convince the owners of the network that this was a good idea or the owners of computer operating systems that this was a good idea. As Berners-Lee put it, "I had designed the Web so there should be no centralized place where someone would have to 'register' a new server, or get approval of its contents."58 It would be a "good idea" if people used it, and people were free to use it because the Internet's design made it free.
This has always been Second Life's fatal flaw. Unlike the World Wide Web, where anyone with a server can plug in and host content, Linden Labs has total control over their world. No virtual world will succeed as the future standard unless it is completely open so that anyone can plug into it and host content themselves. Second Life is just a fantastic ghost town now, filled with amazing creations by people who ultimately do not own what they have built.
---
Photos from my visits to Second Life: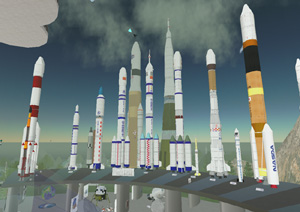 International Space Museum in Second Life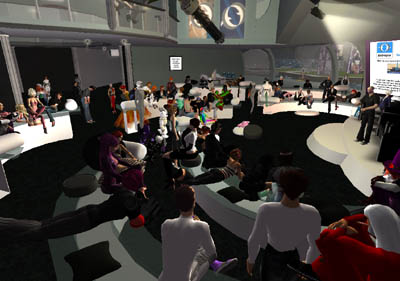 David Brin Talks in SL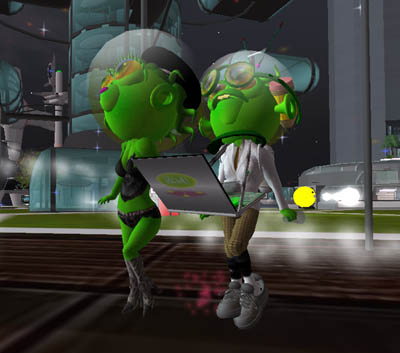 Extropia Dance Party