Last weekend I got to meet one of my favorite SF authors, David Brin, at a virtual talk in Second Life's Extropia Community.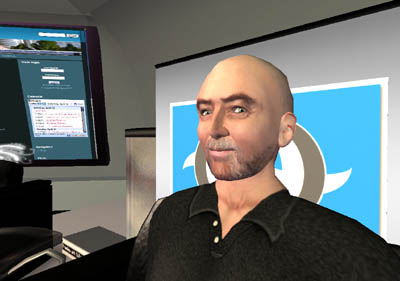 David Brin in SL
It was a packed house, avatars kept crashing, lag was evident, but surprisingly mild. Twice my SL interface got a memory error and crashed, meaning when I logged back into the room, I was standing where I was sitting and looking like a putz to everyone else while the room loaded back in. Just like other members of the audience got booted and then reappeared standing and looking around dazed while their avatar reloaded. It's not like you can yell, "Down in front!"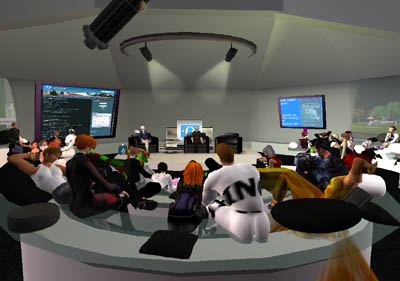 David Brin in SL
Unfortunately, the overwhelming majority of the talk focused on David Brin's insecurities about the chat format, and whether or not it was progress. "How on Earth could anybody call this "discourse" subtle or detailed or serious?" Brin asked, obviously frustrated at the fact that keeping up with a chat log involving 80-plus people is an exercise in futility.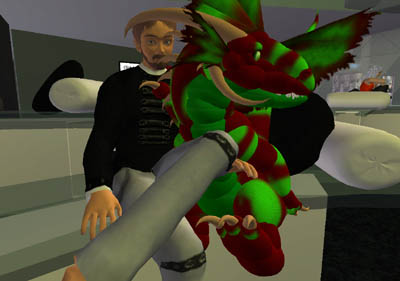 Audience Member
I could understand Brin's frustrations; however, I had to completely disagree with him on the inadequacy of the medium. Many people are perfectly happy with chat rooms, some with blogs, other television, and others books. Brin unnecessarily put down RSS because he has "so little life span," and seemed to indicate that he believes the "cocktail party" format is superior for communicating information to the Internet.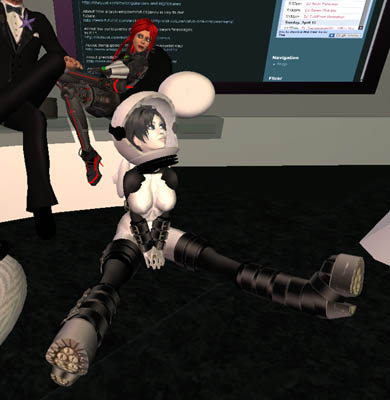 Audience Member
Yet, I personally absolutely despise real-life parties for the same reason Brin dislikes virtual ones, there's too many voices going off at once and I end up losing track of all of them. I get dizzy and disoriented at parties, and often feel as though I should wear a button to them that reads, "I'm smiling because I have no idea what's going on."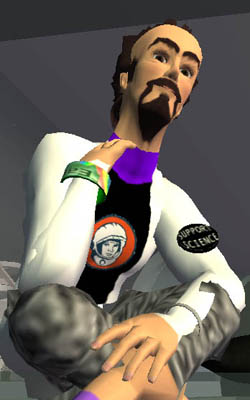 Ozymandias Spark (Me)
At least I can save and review a chat log, usually finding many wonderful meme morsels in them. I sift 400-plus science articles a day, because I'm looking for only the most interesting stories. I blog, because that's the only way I can keep from being talked over, which is what happens in every other real-life medium I've encountered. Instead of criticizing our online formats, David Brin should have been celebrating the fact that people like us have found a way to express ourselves and exchange ideas.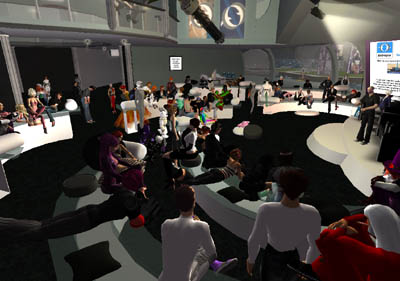 David Brin Talks in SL
Not enough of the discussion was about the Western Enlightenment, but there was enough to make me think about coffee shops, and how they got their start during the Enlightenment. Intellectuals would gather, get caffinated, and engage in late-night discussions about science and philosophy. This was before the Renaissance came along and squash rationality with its oppressive foo-foo idealism.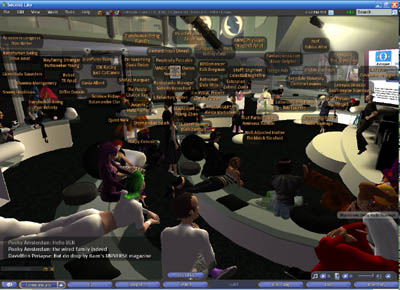 David Brin Talks in SL
User Interface Displayed
Today, coffee shops have been abandoned to the artists, and the scholars of the Enlightenment have moved to the online world, like hanging out on blogs, RSS Feeds, and in the anything-goes realm of Second Life. I think that is progress.