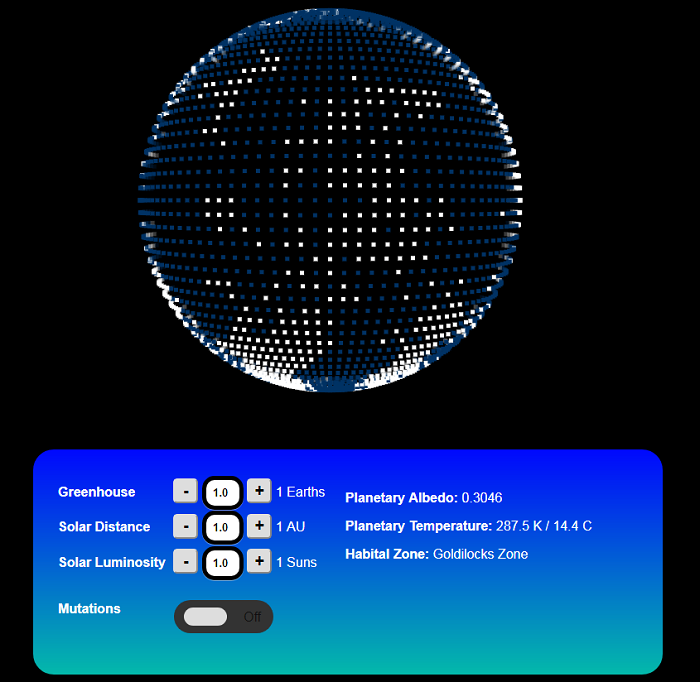 Daisyworld Simulation
I've previously written about James Lovelock's Daisyworld, a thought-experiment meant to support the Gaia Hypothesis. This is the idea that complex ecosystems create a self-regulating environment conducive to perpetuating life. Examples of this include increased plant growth reducing CO2 in the atmosphere or bacteria drawing salt out of the oceans stabilizing salinity levels.
Ten years ago, I was enamored with the hypothesis, but am much more skeptical now seeing it tested on our own planet. With rising CO2 levels, fertilizer runoff effects, plastic, and other pollutants impacting ecosystems across the Earth, I only see destabilizing feedbacks as a result. Yes, the environment could become so destabilized as to kill the human race and let nature evolve new ecosystems–a pessimistic view I don't share as I believe we are smarter than the challenges we face–but such an outcome is easier explained with straightforward evolution and adaptation.
My skepticism aside, I still love Lovelock's planetary fable as something to ponder. Daisyworld is a planet covered in white and black daisies. When there are too many white daisies, the planet gets colder as more light is reflected into space and allows the black daisies to thrive as they absorb more solar radiation. When there are too many black daisies, the planet warms from the solar energy being converted into thermal. Then the white daisies thrive by keeping cool in the heat. Eventually the planet reaches an equilibrium of white and black daisies that maintain a stable temperature in which they can both thrive.
[Continue Reading…]