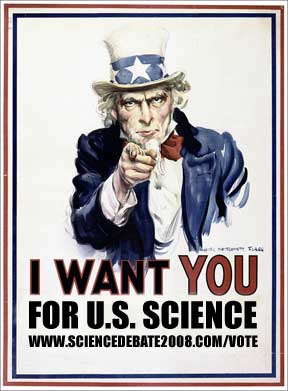 Science Debate
Allow me to be upfront in my support for much of the Government Spending portion of the 2009 stimulus plan working its way through the fed presently. $125 billion in education spending, a $3 billion increase in NSF funding, $100 billion for energy infrastructure, and $10 billion for basic science research are just what America needs to get professionals back into the work force right away and make our economy innovative and competitive again for the future; however, I am bothered by the way the bill has been watered down with excessive tax-cuts, which, as the last eight years have shown, do not promote spending.
Paul Krugman, Nobel-Prize-winning and PhD-from-MIT-holding economist says we need to increase spending in the bill and scale back the worthless tax cuts (See also here, here, and here). There's also Ph.D from University of Pennsylvania economist Mark Zandi, cofounder of Moody's Economy.com and former economic advisor to Republican presidential candidate John McCain. His research group has been churning out reports like this one that stress the importance of Government Spending over Tax Cuts as the best means to stimulate the economy (see also here):
Fiscal Economic Bang for the Buck
One year $ change in real GDP for a given $ reduction in federal tax revenue or increase in spending:
Tax Cuts
Non-refundable lump-sum tax rebate
1.02
Refundable lump-sum tax rebate
1.26
Temporary tax cuts
payroll tax holiday
1.29
Across the board tax cut
1.03
Accelerated depreciation
0.27
Permanent tax cuts
Extend alternative minimum tax patch
0.48
Make Bush income tax cuts permanent
0.29
Make dividend and capital gains tax cuts permanent
0.37
Cut in corporate tax rate
0.30
Spending Increases
Extending UI Benefits
1.64
Temporary increase in food stamps
1.73
General aid to state governments
1.36
Increase infrastructure spending
1.59
Source: Moody's Economy.com
Government demand for infrastructure, general scientific research, and public education will immediately put people back to work, invigorate innovation, and improve the marketability of American citizens to the workforce.
Supercalifragilisticexpialidocious kudos to Science Debate 2008, which has demonstrated its power as an emerging scientific lobby with their fantastic up-to-the-minute detailed coverage of this dimension to the stimulus debate. They also have a breakdown of the science funding cuts made in the last minute to the bill to persuade Republicans to support it. Dittoheads are demanding much more drastic cuts, but when college dropouts like Rush Limbaugh and Sean Hannity want to cut education and science spending, it's because they know an educated public doesn't listen to them.
---
Note: This doesn't change my position of economists having no science. There is legitimate dissent to Krugman and Zandi, that relies on historical interpretation and anecdotal evidence… but all macroeconomics seems devoid of experimental evidence. So I'm mainly just celebrating the science and education.