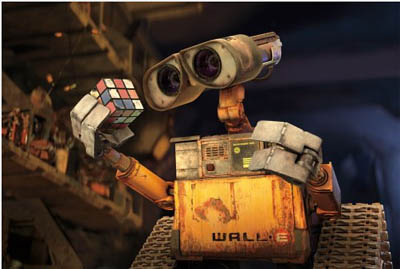 WALL-E's Curiosity Gives it Purpose
Credit: Pixar Studios
Great Science Fiction films come out so rarely that I am overjoyed when a movie like Pixar's WALL-E hits the screens. This is one of those rare SF stories that ventures into the distant future, a place so alien most SF writers don't want to touch it.
WALL-E leaps more that 700 years into the future to a dystopian time where the human race has evacuated the Earth after burying it in trash. Waste Allocation Load Lifters Earth-Class (WALL-E) robots are left with the task of cleaning up the planet so humans may one day return. Only one such robot remains, WALL-E, with a cockroach as a companion, where all the other bots have long-since broken down.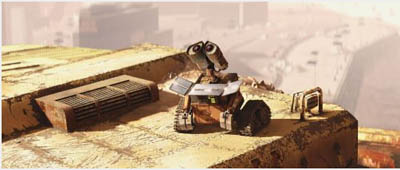 WALL-E is Solar Powered
Credit: Pixar Studios
WALL-E has survived these 700 years because it has learned to recycle from the skyscraper-tall mountains of garbage it has assembled. WALL-E is inquisitive, experimenting with the world around it, playing with all the toys left behind from our shopaholic binge on Earth. Its curiosity has obviously also had a crucial role in its survival all these centuries.
WALL-E meets EVE (Extra-terrestrial Vegetation Evaluator), a vastly more advanced robot sent from the humans in space, in a "boy meets girl" storyline that makes WALL-E a stowaway back to the human ship, where we find a society of humans all turned into obese blobs floating on mobile beds which perpetually feed them commercialized media and "meals in cup." Such a dystopian future is not difficult to imagine in our present society, where we are encouraged to buy things we do not need and consume nutritionless calories far in excess of what our bodies can burn.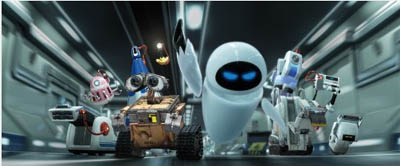 WALL-E and EVE
Credit: Pixar Studios
Can WALL-E and EVE save the human race? See for yourself. I left the theater to find myself confronted with a world of brandnames, and a fascinating new perspective on them and what they are doing to our human evolution. Impacting our worldview is what good science fiction is all about.
I also had lots of fun playing with Disney's WALL-E Website