From my personal observations of my Triassic Triops:
03/14
Add distilled water to the tank. Added nutrient pack, which is like a tea bag. Nutrient pack floats. Accidentally popped it trying to get it to submerge. Particulate, sticks and twigs, are floating in water.
03/17
Added eggs. Eggs clump together on water's surface.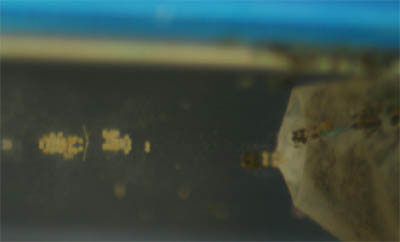 Triops Eggs
03/18
No life yet.
03/19
0900: No life yet. Eggs still floating. Dropped water droplets on some of them to submerge, but they float right back to the surface.
1400: Life! A little white dot jiggling up and down and around the tank. About 1mm in size. It pushes its way through the ater rather than swims.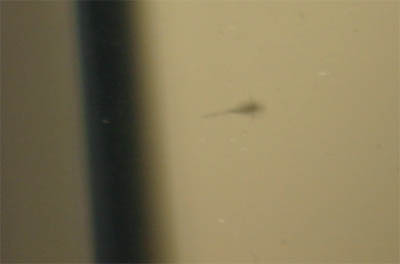 Triops One Day Old
03/20
1100: There are now two triops in the tanks. The one from yesterday has doubled in size to 2mm, and it now swims much more smoothly. Younger counterpart still in the 'pushing through water' phase.
1340: Just counted four triops in the tank.
1700: Trying to photograph triops. Keep getting blurry dots. One triops swam close to the egg cluster and got stuck in the mucous-tendrils that spread out from it in the water.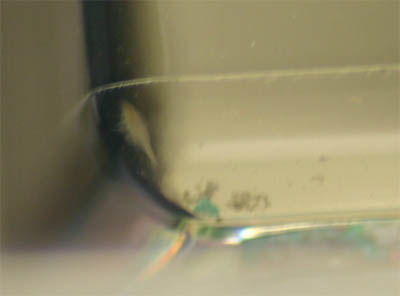 Triops Two Days Old
03/21
0800: Crushed two food pellets and added them to the tank.
0930: The first hatchling is now 4mm long and 2mm wide. I've decided to name it Spaz because it swims crazily all over the tank. Other triops are hard to find. Only observed one other, the size of a hatchling. Spaz must have eaten the others. This suggests and evolutionary advantage to being the early-born triops, and getting the size jump on your siblings so you can eat them.
0500: Removed nutrient pack. Spaz is the only triop in the aquarium. It has even eaten most of the eggs at the surface. I put several crushed pellets worth of food in the tank for the weekend. Took apart nutrient pack. It's all twigs. Don't know why the directions have you treat it like toxic waste.
03/24:
1000: Spaz is huge and still a spaz. One inch long. Head antenna and tail antenna are very visible. Added four food pellets. During the day, Spaz will grab one from the surface and pull it down to munch on it.
1700: Fed Spaz four pellets. It took one and nibbled on it upside down, rolling it over and over in its legs.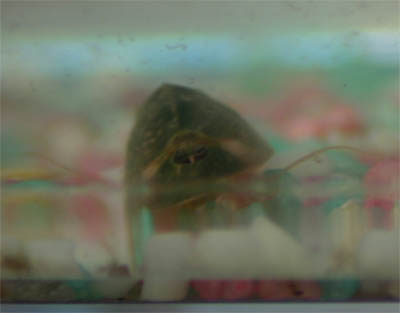 Spaz Six Days Old
03/26
1200: Spaz ate two pellets given this morning, out of four. It is two inches in length now. Carapace is solid. Spaz swims like a dolphin, up and down, rather than like a fish, side to side. Mandibles are clearly visible as well. They look like big white buckteeth.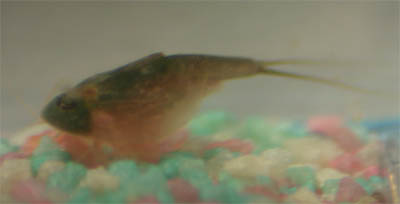 Spaz Six Days Old
03/27
1400: Six food pellets from this morning are gone. Spaz is still two cm long. Two and a half counting tail antenna.
1430: Noticed a shell at the bottom of the tank. Spaz has shed its outer layer since yesterday.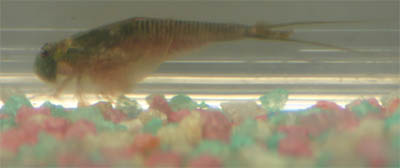 Spaz Six Days Old
03/28
0815: Put a dab of tuna into the tank. Spaz jumped right on it, and then went crazy swimming around the tank.
0850: Tuna has been torn to little pieces, which Spaz continues to munch on.
1700: Dumped a bunch of tuna and triops food (12 pellets) into the tank before leaving for the weekend.
03/31
0800: Spaz is dead, lying upside down at the bottom of the tank. All food pellets in the tank are eaten, but the tuna is untouched. I suspect the tuna was responsible for Spaz's death.
1730: I have preserved Spaz in a test tube filled with 70% Isopropyl Alcohol.
Future Plans: I still have half the eggs left and another nutrient pack. Intend to try the whole thing again very soon.