Jump to:
The Science Fiction of Meditation
Mindfulness Meditation
Science of Mindfulness Meditation
Experimentally-Observed Benefits of Mindfulness Meditation
How to Meditate
References
The Science Fiction of Meditation
Star Wars: The Phantom Menace was a deeply flawed movie on many levels, but there was one moment in the film that I thought was brilliant. The Jedi master Qui-Gon Jinn is in the heat of a duel with the Sith lord Darth Maul, when a force field comes in between them, momentarily pausing their battle. Darth Maul impatiently paces back and forth along the shield, staring at his opponent with murderous rage. Qui-Gon, in contrast, drops to his knees and begins meditating.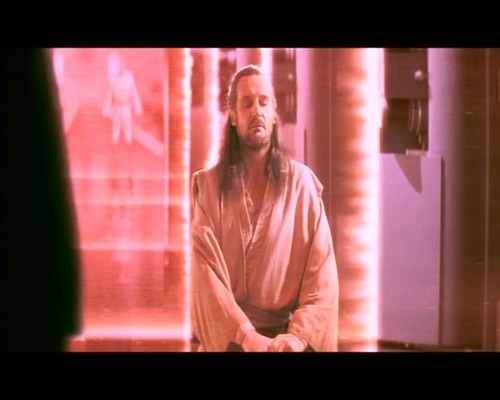 Qui-Gon Jinn Meditating
Credit: 20th Century Fox / Lucasfilm
I recently spent a Saturday morning at a meditation workshop hosted by Amma Sri Karunamayi, where I followed a warm-up yoga session taught by my brother (yes, the same one from this epic debate of religion vs science), who was also her devote, with three straight hours of mindfulness meditation interrupted every half hour with my need to change sitting positions in order to restore feeling to my legs. As a skeptic, I had to resist the urge to roll my eyes when they spoke of magical energies stirred by the yogic practice, feeding jade idols butter, and sitting in the presence of a woman who is supposedly the latest incarnation of some Hindu goddess, but also as a skeptic I am open to new experiences and practicing mindfulness meditation for three hours in a group setting where social pressures would help keep me focused was something I strongly desired to try, and I confess I came out of the experience fairly high. I felt like I was floating, calmly detached from the world around me. The feeling carried me through an hour of beltway traffic and I remained non-stressed for the rest of the day.
It was a high very similar to one I would get as a youth from immersing myself in a good book or going deep on a programming task for several hours. Not surprisingly, I was also discovering Star Trek at that time in my life, and was idolizing Mr. Spock for his emotional detachment the cool logic I hoped would help me survive middle school and admired later in life for the idealization of mental discipline. Vulcans are often portrayed in a state of meditation, and Trekkers describe three types of Vulcan meditation:
Mental meditations have the purpose of developing the intellect. One might consider doing a logic puzzle or studying a foreign language a mental meditation, albeit a simple one. Emotional meditations explore the breadth and flavor of our emotions: for one cannot hope to control a thing without first understanding it. Physical meditations consist of various strenuous exercises done in a particularly mindful manner.
I do like the idea of mental and physical meditations, and do practice such disciplines in real life, but the definition here of "emotional meditations" is highly lacking. It doesn't make sense that one would "explore the breadth and flavor" of something one wants mastery over, but is it possible to cognitively master one's emotional states and calm the mind of all its chatter?

[Continue Reading…]