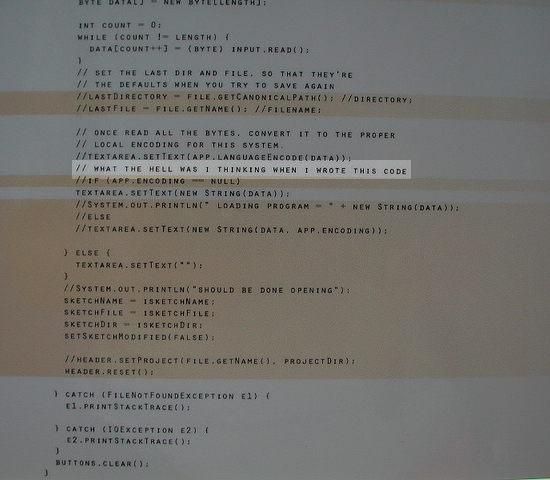 Proce55ing Source Code
Credit:
Niels Heidenreich
In his book On Writing Stephen King argued that to be a good writer, you must be able to "Kill your darlings," where, for the sake of keeping the prose moving, you must cut out the non-essential parts, no matter how well-written:
Mostly when I think of pacing, I go back to Elmore Leonard, who explained it so perfectly by saying he just left out the boring parts. This suggest cutting to speed the pace, and that's what most of us end up having to do (kill your darlings, kill your darlings, even when it breaks your egocentric little scribbler's heart, kill your darlings)…I got a scribbled comment that changed the way I rewrote my fiction once and forever. Jotted below the machine-generated signature of the editor was this mot: "Not bad, but PUFFY. You need to revise for length. Formula: 2nd Draft = 1st Draft – 10%. Good luck."
Writing code is much like writing prose, but I think it's even harder to cut your most beautiful ideas from a computer program. In software design, we have to research heavily and go through hours of trial and error to produce some of our solutions. It's one thing to slash several paragraphs of prose crafted in a hour of brilliant inspiration, it's quite another to throw away an inventive solution and the wisdom that came with it.


[Continue Reading…]