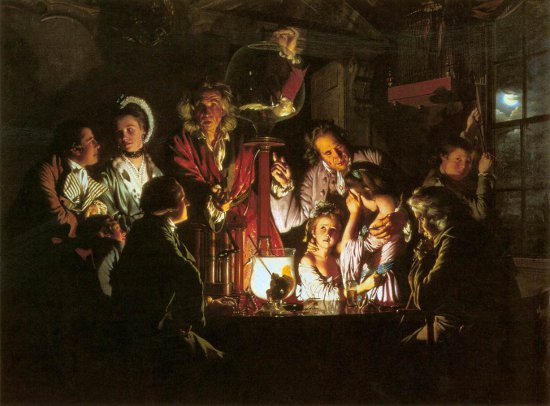 Joseph Wright's An Experiment on a Bird in the Air Pump
I did everything in my power a few months back to avoid all news about the British Royal Wedding that had so many Americans captivated. It was disheartening to see the American media paying so much attention to the antiquated and irrelevant institution of the Royal Family. It just seemed more than a little hypocritical as totalitarian rulers appointed by god are the antithesis of a country founded on the consent of the governed, a principle for which we had endured a bloody revolution to extricate ourselves from their rule.
Thomas Paine in his pamphlet Common Sense, the document that inspired the Declaration of Independence and provided an outline for the American system of Representative Democracy, put it most eloquently:
But where, says some, is the King of America? I'll tell you. Friend, he reigns above, and doth not make havoc of mankind like the Royal Brute of Britain. Yet that we may not appear to be defective even in earthly honors, let a day be solemnly set apart for proclaiming the charter; let it be brought forth placed on the divine law, the word of God; let a crown be placed thereon, by which the world may know, that so far as we approve of monarchy, that in America THE LAW IS KING. For as in absolute governments the King is law, so in free countries the law OUGHT to be King; and there ought to be no other. But lest any ill use should afterwards arise, let the crown at the conclusion of the ceremony, be demolished, and scattered among the people whose right it is. [emphasis mine]
This revolutionary idea on which America was founded was inspired by the Age of Enlightenment, an intellectual movement that spawned so many of the ideas we take for granted today, but also one that we underappreciate or appear to have event forgotten in our academic institutions.


[Continue Reading…]