When Vicky was searching through children's variations on the Google logo for her Google Doodle Trees post, one logo caught my eye. It was a wish to "Bring back the dinosaurs." I know the kid was talking about bringing back the dinosaurs in the sense of Jurassic Park, but I doubt the child realized that the dinosaurs really never left the Earth. In fact, the dinosaurs are all around us, they just evolved into something more well-suited to the changing environment: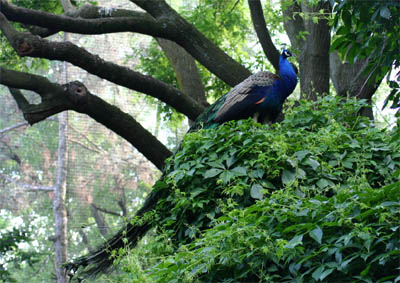 Indian Peafowl (Peacock)
While admiring the Peacocks in the aviary, I overheard a woman tell her friend, "How can anyone look at that animal and say there ain't no God?" Putting the double-negative aside, I thought about the incredibly fascinating the process of sexual selection that led to the Peacock's tail. Sexual selection doesn't disprove the existence of god, but it does disqualify the mere existence of a peacock's tail as proof of god's existence.
As long as we're challenging paradigms, let me remind everyone of one of my favorite examples of homosexuality in nature, the flamingo. Here's an animal with a well-documented habit of forming non-traditional relationships with its fellows. Two male flamingos will often pair-up, taking eggs from females or females will even give them their eggs, and then the males will raise the chicks. The evolutionary advantage to this arrangement is that two male flamingos can secure more territory than a male-female pair.
Remember, you can't spell flamingo without "flaming."
: )
Check out the complete flickr set here.