You think you're doing some damage? Two plus Two is *shzzzt* ten… IN BASE FOUR, I'M FINE!!! Ha! Ha! Ha! – GLaDOS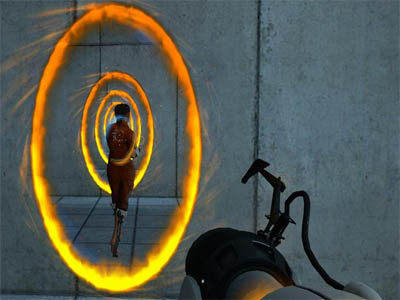 Infinite Portals
I had seen previews for this game online, and thought it looked pretty spiffy, but it wasn't until I dabbled with the flash version that I was really intrigued (plus I found it was priced at $10, a bargain). I haven't played a puzzle game since the original Tomb Raider, back in 1996, and this one totally sucked me in.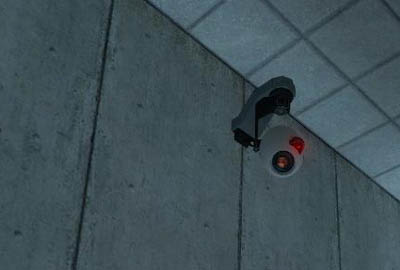 The Computer is Watching
You wake up in a glass cell. A computer, GLaDOS, begins taking you through a series of potentially fatal obstacle courses. "Cake and grief counseling will be available at the conclusion of the test," she promises.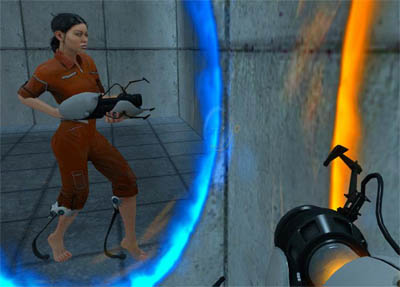 You Play Chell,
an Orphan of "Bring Your Daughter to Work Day"
and Equipped with Heel Springs to Survive Falls
This Screenshot was captured by Opening two portals
next to each other and looking through
To help you navigate each level, you are given an Aperture Gun, which you may shoot into walls, ceilings, and floors to produce portals. You can open portals to cross chasms or drop weights on military drones. Open a portal in the ceiling above you, open one underneath your feet, and you can fall forever, gaining velocity as you do. With this strategy, you can fling yourself across great distances.
The levels are difficult enough to make the game challenging, but easy enough to make you feel smart. The basic game isn't very long, I beat it in about six hours, but a collection of bonus advanced stages have driven me batty since then.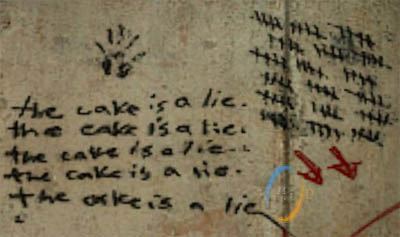 The Cake is a Lie!!!
Any game is only as good as the story it tells, and in Portal's case, a delightfully twisted computer provides a witty and insane narration for the action, which itself has you thinking in strange ways. I found myself chuckling throughout the many levels at GLaDOS' silliness, and even went and downloaded the song Still Alive from the soundtrack, sung by the GLaDOS (voiced by Ellen McLain).
I highly recommend this relaxing, mentally challenging game. It's a rare treat in a world of first-person-shooters to find something so original and well written. Plus, at $10, you have less than the cost of a DVD at Wal-Mart to risk on what might provide 6-10 hours of fun.
This video of an extremely advanced bonus level of some sort demonstrates Portal's craziness (The player has disabled the drones somehow in this demo):
---
Note: Portal is the "spiritual successor" of a freeware game, Narbacular Drop, which is also a puzzle game with portals, however it is a much simpler one.
Another Note: After beating Portal, it's fun to read the Wikipedia entry for it, as the history behind the game's story just gets more and more twisted.