"You need to go get rid of 250,000 contractors in the Defense Department, where you can really pick up some small change." ~ Former Republican Senator Alan Simpson, February 16, 2011 on balancing the budget (source)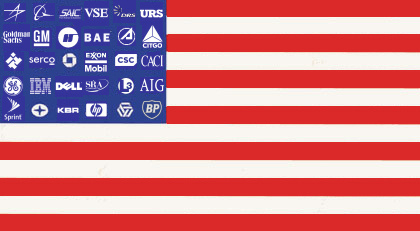 Credit:
watchingfrogsboil
For 10 years of my life, I was one of those $300 toilet seats or $600 hammers you hear about in the Pentagon's spending. I was the waste, fraud, and abuse that everyone complains about in government, but up until a year ago, I had no idea just how much my job was costing American taxpayers.
A study by the Project on Government Oversight (POGO) found the Government pays IT Contractors nearly twice as much as its own IT Workers.

OPM Series Description
Full Federal Annual Compensation
Full Private Sector Annual Compensation
Contractor Annual Billing Rates
Accounting
$124,851
$83,132
$299,374
Auditing
$122,373
$83,132
$283,005
Budget Analysis
$110,229
$124,501
$302,661
Building Management
$111,564
$179,740
$265,242
Computer Engineering
$136,456
$131,415
$268,653
Contracting
$113,319
$115,596
$259,106
Environmental Protection
Specialist
$127,247
$105,964
$177,570
Facility Operations
Services
$108,060
$119,449
$179,254
Financial Analysis
$132,262
$106,679
$171,288
Financial Management
$164,218
$145,486
$337,002
Human Resources Management
$111,711
$100,465
$228,488
Information Technology Management
$124,663
$114,818
$198,411
Logistics Management [Deployment]
$116,047
$123,349
$204,443
Logistics Management [Planning]
$116,047
$97,269
$168,938
Management and
Program Analysis
$124,602
$108,132
$268,258
Program Management
$173,551
$179,740
$269,901
Quality Assurance
$98,939
$104,891
$107,786
Statistics
$125,192
$108,586
$207,563
Technical Writing
and Editing
$103,801
$82,873
$112,091
This begs the question: What service is the Federal Contractor providing to justify charging double what it would cost the Federal Government to employ these same personnel directly?
They don't provide us the facilities to do our jobs. No. The Federal government provides our computers, office space, and pays for all the utilities to keep it running. The government buys all the software, hardware, and pays for any training we need to bring our skills up to date to effectively do our jobs. This appears to be a fairly standard practice in Federal Contracting as a GAO review found "that significant numbers of defense contractor employees work alongside DOD employees in the 21 DOD offices GAO reviewed. At 15 offices, contractor employees outnumbered DOD employees and comprised up to 88 percent of the workforce." In my department contractors outnumbered government employees by about four to one.
The contractor also doesn't have to manage us, because the government employees serve as supervisors. In fact, it's policy in our department that government employees supervise the contractors directly. Our Project Manager was the most expensive billet on the contract but I only met with him once a year for my annual evaluation, where I had to explain what I had been working on for the past year and why I deserved a raise. He never had the foggiest idea what anyone in the department was working on and relied on complaints from Government employees to know when he needed to chew someone out.
The only thing the Contractor is responsible for is ensuring that our timesheets are filled in correctly and on time; otherwise, they might experience a delay in invoicing Uncle Sam. They handle my 401k, medical benefits, and direct deposit my paycheck twice a month. Guess what America? You are paying twice what it costs the government to employ personel directly for the added value of having a contractor manage the human resource functions for 73 employees. The cost for the Federal government to handle this itself would be a fraction of the yearly salary of a single GIS employee, someone who is already serving as the HR rep for all the other government employees for between $50k and $80k a year.
We also have to consider the quality of the service provided by the Federal Contractor in light of its fixed-priced profit motives:
Price (fixed) – Cost = Profit
What the POGO report doesn't mention is that the IT Workers employed by federal contractors are making as much or less than Federal IT workers. When you're only overhead is your employees' salaries, you have a very strong incentive to keep those salaries artificially low. Whenever a government position would open up in our department, contractor employees would jump at the opportunity for stability and better benefits.
Why does the Federal Government operate this way, outsourcing millions of jobs to contractors who could be more cheaply employed through directly? The answer, unsurprisingly, is politics. Politicians hand out billions of dollars to Federal Contractors who, in turn, use the revenues to lobby the politicians. "The top 20 service contractors have spent nearly $300 million since 2000 on lobbying and have donated $23 million to political campaigns," according to the New York Times. It's a self-perpetuating system.
But there's a less visible political reason for the outsourcing. Every time a worker leaves the Federal Payroll to become a private-sector Federal Contractor, the President and Congress can claim to be reducing the size of government. They publicize the fact that "1990 total government employment… was 5.23 million," which fell to "2.84 million in 2009."
But the number of people whose job depends on funding from the Federal Government: University Grants, Defense Contractors, Construction Workers, Public Schoolteachers, Regulators, etc. etc. has skyrocketed. Redefining "Federal Worker" to include all of these jobs increases the number of people employed with tax dollars to between 14.6 million and 17 million, translating to between 10% and 12% of America's total employed population. The true number is incredibly hard to pin down because there are no hard data publicly available on how many American jobs depend on funding from the Federal Government. This obfuscation of employment data is why many critics refer to federal contractors as the Government's "Shadow Workforce."
I loved my job developing applications for the Coast Guard, but it angered me that the contractor was raking in taxpayer money by delivering sub-quality service to the government while overworking and underpaying employees. When I confronted management about what I considered fraud and demanded solutions, the answer was we will not pay for training, we will not pay for qualified personnel, and we will not bring your salary up to the national average. They even welcomed my resignation despite the fact that it meant the project I had been working on for two years would completely collapse shortly after my absence. Any project failures are the fault of government employees managing them, not the contractor who merely fills the billets.
Between socialism and capitalism, Government Contracting takes the worst of both worlds. It's capitalism's greed mashed up with socialism's inefficiency. With America struggling to define austerity measures that will reduce the federal deficit, eliminating Federal Contractors and employing personnel directly seems like an obvious place to start.
Additional Food for Thought:
The top 100 Defense Contractors cost taxpayers $306,521,269,483.
There was $442 billion in contractor funds available to small businesses in 2009. What gets hidden in this number is the fact that many small business team up with a large corporation to bid on these contracts.
For a particularly egregious example of Federal Contractor fraud, waste, and abuse, I refer you to the Coast Guard's $24 billion effort to modernize its fleet, which sounds like it actually ruined more ships and equipment than it produced, but the contract was written so that the Federal Contractors could not be held accountable.